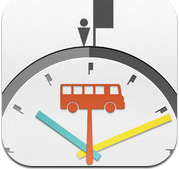 AZIO Electronics Co., Ltd. launched APP《公車來了沒》wins Macworld/ iworld Asia 2012 awards for the best utility APPs. This application supports for both iOS and Android platform, has ranked 3rd on the list of top25 free apps in a very short time and reached 10 million downloads.
Macworld/ iworld Asia 2012 was held at the China National Convention Center in Beijing from 2nd to 4th Aug. The expo attracted over 500 exhibitors from more than ten countries such as the US, Europe, Japan, Korea, Hong Kong and Taiwan. Azio stood out at the largest yearly show "Mobile Internet Leads the Future" themed event.
Right picture: Left side, Andy Chang, Right side, Brad Chen
Through cooperation with Taipei city government to obtain GPS position of buses,《公車來了沒》provides arrival time on all available routine buses according to the transit rider's location. This APP avoids waiting time at the bus stops and users could choose a faster alternative bus route.
Brad Chen, the Project Manager of AZIO said, it's not easy that standing out from all the APP contestants, especially for an APP that focus on a single area service. AZIO app dedicates on easy, stable, and elegant, that's the key how to keep APP closer to user, and that's what we insist on APP development.
Andy Chang, the CEO of AZIO said, AZIO APP team has been constantly striving to meet the needs of iPhone users by providing KISS (Keep it simple and short) design concept to satisfy user needs. This award brings AZIO the infinite business opportunities in the future, and AZIO will continue to create high quality APP for users and providing design service to the companies who need high quality APP.