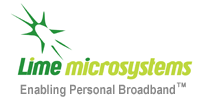 About Lime Microsystems
Lime Microsystems specializes in digitally configurable transceivers for the next generation of wireless broadband systems.  The company is renowned internationally for its analog, mixed-mode and RF design as well as its expertise in variety of system applications. Lime works closely with industry partners to optimize RF and baseband solutions to ensure the ecosystem for the entire end equipment is in place. Its partnerships help customers achieve high performance with lower device and manufacturing costs, less design resource and optimized inventory. Further information on Lime Microsystems can be found at www.limemicro.com.
About Azio Electronics
Founded in 2011, Azio Electronics is an advanced product developer and semiconductor specialist distributor for the worldwide market. It provides its customers with innovative products from a worldwide network of partners and assists in system design. Azio`s products are used in a variety of markets, including consumer, industrial, wireless and CCTV. The company also provides the APP mobile software for download. By providing both hardware and software, Azio simplifies the adoption of new technologies for its partners. Azio stands for "from A to Z, connecting In and Out". Further information is available at www.azio-tw.com.
On July 10th, 2012, Lime Microsystems and AZIO Electronic Co., Ltd, officially signed the Distribution agreement as strategy business alliance partners. The two companies are committed in expending their mutual collaboration by sharing their core competency in a partnership covering;
Necessary resources including manpower, equipment and market information.
Promoting Lime`s product to Greater China customers.
Engaging the participation of their network of member companies in the relevant fields of application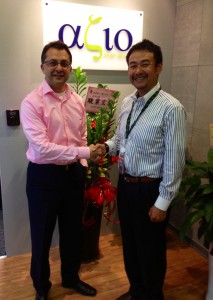 Distribution agreement signed at AZIO Electronics. Right side: Mr. Andy Chang, CEO of AZIO, Left side: Dr. Ebrahim Bushehri, CEO of Lime Microsystems