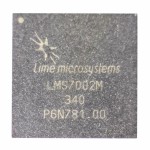 Taiwan Only
$147 USD
Oversea
$170 USD
Lime-Chip LMS7002M

The LMS7002M is Lime's second-generation field programmable RF (FPRF) transceiver IC with extended functionality to cover a greater range of frequencies and applications.
The device uses state of the art transceiver design in CMOS technology to significantly reduce cost and power consumption. It integrates a dual transceiver architecture to support 2×2 MIMO along with on-chip digital signal processing functions.
The LMS7002M can run on any mobile communications and wireless standard – including all 2G, 3G and 4G variants and WiFi – both licensed and unlicensed.
Hey!
I'am here for providing consultant service to you
please feel free to contact with me to answer your questions+886-2-2627-1939
---
Feature
Field Programmable Radio Frequency (FPRF) chip
· Dual transceiver ideal for MIMO
· User programmable on the fly
· Continuous coverage of the 100 kHz – 3.8 GHz RF
frequency range
· Digital interface to baseband with on chip integrated
12 bit D/A and A/D converters
· Programmable RF modulation bandwidth up to
120 MHz using analog interface
· Programmable RF modulation bandwidth up to
56 MHz using digital interface
· Supports both TDD and full duplex FDD
· LimeLight™ digital IQ interface – JEDEC JESD207
TDD and FDD compliant
· Transceiver Signal Processor block employs
advanced techniques for enhanced performance
· Single chip supports 2×2 MIMO. Multiple chips can be
used to implement higher order MIMO
· On-chip RF calibration circuitry
· Fully differential baseband signals, analog IQ
· Few external components
· Low voltage operation, 1.25, 1.4 and 1.8V. Integrated
LDOs to run on a single 1.8V supply voltage
· On chip integrated microcontroller for simplified
calibration, tuning and control
· Integrated clock PLL for flexible clock generation and
distribution
· User definable analog and digital filters for
customised filtering
· RF and base band Received Signal Strength Indicator
(RSSI)
· 261 pin aQFN 11.5×11.5 mm package
· Power down option
· Serial port interface
· Low power consumption, typical 880mW in full 2×2
MIMO mode (550mW in SISO mode) using externalLDOs· Multiple bypass modes for greater flexibility
Application
Femto/Super Femto (Enterprise)/Pico/Micro Cells
Repeaters
Military radio
Satellite communication
White space
CPEs and home gateways
Machine to machine communication over cellular network
SDR and FPGA
Open source
Resources
Lime Microsystems official website
Inquiry and purchasing in Japan region

http://www.vitec.co.jp/products/semicon/overseas/Lime.html

---
---



Lime Microsystems specialises in field programmable RF (FP-RF) transceivers for the next generation of wireless broadband systems.These transceivers offer an unprecedented level of configurability and allow system designers to create wireless communication networking equipment that can be set and reconfigured to run on any wireless communications frequency and mobile standard.
---