AZIO Electronics Co., Ltd and VITEC Corporation of Japan announce today a deep strategic business alliance. The two companies have agreed to share both field applications and logistics resources to ensure the best possible support to their respective customers worldwide.
Andy Chang, CEO of AZIO said "We are really pleased to announce this partnership. It is great news for our customers, as we can now provide an even better service and offer a greater choice of solutions. This, in turn greatly helps our vendors to promote and deliver their products."
Seiki Masanobu, CEO of Vitec said "This partnership will enable both companies to create more opportunities for future business, and we are excited about this."
ENDS
About Vitec Corportation
VITEC Corporation of Japan is a global electronics solutions and innovation company with over 350 employees in Japan, Hong Kong, Shenzhen, Shanghai, Singapore, Taiwan, and USA. Vitec provides systems solution and key components to most major Japanese OEMs including Sony, Canon, Panasonic, Sanyo, and Sharp. For details, please visit www.vitec.co.jp.
About AZIO Co., Ltd.
AZIO was founded in 2011 to provide customers with innovative products by distributing and designing solutions round some of the world's most advanced semiconductors. AZIO products are used in a variety of markets, especially for consumer and CCTV markets in Greater China. AZIO also provides mobile applications software. By providing both hardware and software, AZIO makes it easy for customers to bring innovate products quickly to market. AZIO stands for from A to Z, connecting In and Out. For details, please visit www.azio-tw.com.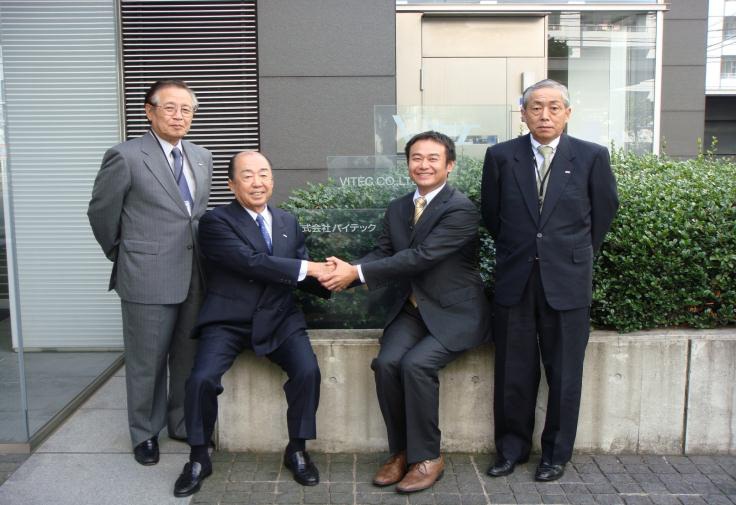 MOU signed at Vitec Japan. Left: Mr. Seiki Masanobu, CEO of Vitec, Middle left: Mr. Konno Kunihiro, Founder of Vitec, Middle fight: Mr. Andy Chang, CEO of AZIO, Right: Mr. Matsumoto Shoji, VP of Vitec